Author Biography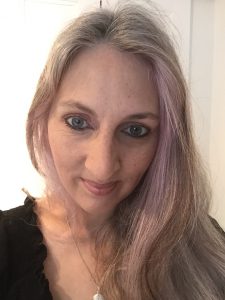 A Member of The Society of Authors
Alicen's writing career began at the age of 21 when she gave up a perfectly good job, and some would say glamorous, as a publicity secretary for an arts Television company in London to become a playwright and form her own professional touring theatre company; Dragon Theatre Company. (1991-1996). She has never looked back.
As Artistic Director of Dragon Theatre Company she produced and toured her first four full-length plays; The Three of Swords, The Jezebel, Passion Explosion and Chrysalis all to great critical acclaim. They received public funding, toured theatres and schools around the UK, performed at The Glastonbury Festival and represented the UK (funded by the British Council) at The Tampere International Theatre Festival in Finland (1993).
Spring-boarded by the success of her theatre company; several of her plays were then produced by other theatres most notably, The Everyman Theatre, Cheltenham with her plays Dark House and The Kissing Gates both directed by Sebastian Baczkiewicz. Macaronic Theatre Company with Passion Explosion and the Lottery Funded community project; The Circle Project at Spring Gardens Arts Centre.
Channel Four Television produced her playlet; In Your Dreams produced by Diverse Productions, 1998.
Following the birth of her first child, Alicen gave up touring the length and breadth of the UK to be a mum (the best job in the whole world) and turned to writing books instead. Her author achievements to date include:
Published Works
Faeriecraft, Treading the Path of Faerie Magic, co-authored with Neil Geddes-Ward, Hay House UK, London 2005 (non-fiction).
A Faerie Treasury, co-authored with Jacky Newcomb, Hay House UK, London, 2007 (non-fiction). A Faerie Treasury was translated into Japanese in 2009.
The Kiss of Two Worlds, Winged Feet Productions, Hertfordshire, 2006. (fiction in the magic realism genre.)
The Snoring Princess, illustrated by daughter, Morgan Geddes-Ward, The Good Faerie, (children's fiction.)
Teapot Teasel, illustrated by her niece, Lauren Geddes, The Good Faerie, (children's fiction.)
She is also a contributor to Spirit & Destiny's Soul Secrets, edited by Emily Anderson, Hay House UK, London, 2008.
Spoken Word and Relaxation CD's
Sleeve notes for Journey to the Faeries, Llewellyn and Juliana, New World Music, 2003.
The Faerie Cottage, Guided Meditation for Relaxation and Imagination, featuring music by Llewellyn, New World Music, 2004.
Sleeve Notes for Faerie Lore, Journey to the Faerie Ring, Llewellyn and Juliana, Paradise Music, 2006.
Journey to the Faerie Ring, Guided Meditations, featuring music by Llewellyn, Paradise Music, 2006.
Faerie Workshop, Guided Meditations, featuring music by Llewellyn, Paradise Music, 2006.
Teen Witch Workshop, featuring music by Llewellyn, Paradise Music, 2010.
Press and Magazines
Alicen has written hundreds of articles, book reviews and been a regular columnist from 1990 to the present day for magazines and newspapers internationally. She has been interviewed most notably by The Sunday Times, The Scotsman, The Daily Mail, Prediction, It's Chat Fate Magazine, The Fortean Times, Spirit & Destiny Magazine, Fae Magazine, Living Orkney, The Orcadian, Orkney Today, Witchcraft & Wicca Magazine and many more.
TV and Radio
Alicen has been interviewed and is regularly invited on radio stations worldwide (USA, UK, Spain, Australia) as an expert in her field on faeries, their lore and for her work as an author. She has also been interviewed on TV worldwide (Channel Four Television, SSVC, TV3 – Scandinavia) for her plays and expertise in faeries.
Alicen lives in Orkney, Scotland, UK with her husband Vernon. She has two grown-up children, Morgan and Tam Lin. Alicen sometimes dips her toes into the world of grown-ups but can't admit to being one full time.
Alicen is currently studying at The Highlands and Islands University for a degree in Literature and will graduate in 2023.