The Snoring Princess
Children's book for 3-7 years by Alicen Geddes, illustrated by Morgan Geddes-Ward.
Lily-ana Lettuce Chocolatesprinkle Giggle thinks she is a real faerie princess. But one day, something altogether strange happens to change her mind.
A funny, triumphant story about a princess who discovers she doesn't need to fit her sparkling Faerie-shaped self into everyone else's traditional square holes. Delve into Morgan's charming and innocent illustrations and discover Lily-ana Lettuce finds herself in a life threatening chocolate conundrum where only her friends can save the day.
Alicen Geddes and Morgan Geddes-Ward are a mother and daughter creative partnership. The Snoring Princess is their first book together.
£5.99
The Snoring Princess Handmade 'Art Folio' Limited Edition series. Only 25 ever to be made.
This includes a standard signed copy of the book in a handmade cover with features such as special character stories that only appear in the 25 editions, a book mark, pop-ups and a whole new imaginative look into Lily-ana Lettuce's world.
The paper used is handmade out of the author's old manuscripts! Painstakingly hand coloured in mixed media. Each edition is put together by hand with many hours work going into every one. Please note that no two editions will be exactly the same as every single element is handcrafted, variations will naturally occur. PLEASE NOTE THAT EACH ONE IS MADE TO ORDER AND WILL TAKE SIX WEEKS FROM YOUR ORDER BEING PLACED TO BE DELIVERED.
£95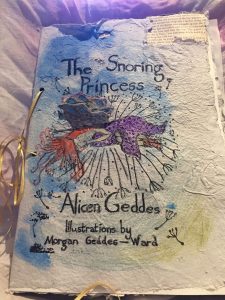 A Faerie Treasury
A Faerie Treasury is a magical reference to all things faerie!
It's probably the most comprehensive faerie book ever written.
Read amazing real-life stories of contact with the faerie folk from all over the world
Learn about the flowers and trees favoured by the little people, and the best oils, crystals and candle colours to encourage faeries into your space
Use the remarkable A – Z reference to find out which faeries are good … and which are just plain naughty!
Discover the faeries' secret hide-outs
Find out how to turn your home and garden into a magical faerie space
Have fun with magical faerie crafts
THIS BOOK IS NOW OUT OF PRINT AS A HARD BACK BOOK. A NEW PAPERBACK EDITION WAS PUBLISHED IN JULY 2018. TO MY KNOWLEDGE THERE IS ONLY ONE BRAND NEW COPY OF THE HARDBACK IN EXISTENCE . IF YOU WOULD LIKE TO ORDER THIS ONE OF THE AUTHORS (ALICEN) WILL SIGN IT FOR YOU.
£12.99Add to cart
The Kiss of Two Worlds
Step into Jessamyn Fawn's World… where the possibility of a secret life in another time is just a thought away.
For Jessamyn has unwittingly discovered the key to the Land of Faeries.
A twenty-something librarian living in suburbia, Jessamyn finds life and conventionality stifling. As a remedy she embarks upon a hidden double life. With the aid of the faeries she reveals more about herself and her crumbling marriage to Michael, than she ever envisaged. Elfin secrets await her at The Kiss of Two Worlds. She and her entangled lover uncover sparkling answers that a remarkable sexual encounter and the faeries pose.
Follow her if you will…
A modern novel inspired by the spiritual marriage of W.B. Yates and Maud Gonne. Encompassing faerie ritual, astral projection, phantoms, seduction, passion and desire.
THIS BOOK IS OUT OF PRINT. THERE IS ONLY ONE BRAND NEW COPY IN EXISTENCE. IF YOU WOULD LIKE TO ORDER IT THE AUTHOR WILL SIGN THE COPY FOR YOU.
Faeriecraft
Faeriecraft is the creative melding of the Faerie faith and natural witchcraft. The faerie world has traditionally remained a mysterious and elusive secret. Authors Alicen and Neil Geddes-Ward have worked with the Faerie realms for many years and passionately believe that the faeries will make themselves available to anyone who truly seeks them.
This beautifully illustrated practical guidebook describes:
Meditation and techniques of journeying that will bring people closer to the Faerie realm
How to create a garden or wild altar
Ways of contacting the Faerie Kings and Queens
Simple celebrations for groups or people working alone and guidelines for creating a Faerie wedding, baby naming or rites of passage ceremony
The first steps on the path to becoming a Faerie Priestess or Priest.
NOW OUT OF PRINT AS A HARD COPY, BUT YOU CAN STIL PURCHASE THIS AS AN E-BOOK FROM AMAZON.